The Commission has launched the second set of calls for proposals under the Connecting Europe Facility Digital programme. The 5G for Smart Communities action will contribute to the deployment of 5G-based systems that support service of general interest for citizens around the EU.
With a planned budget of €277 million, the aim is to support projects for secure, fast and high-capacity networks, backbone infrastructures, including quantum communication, cloud federation and submarine cables, strengthen the networks that connect rural, remote and overseas areas, as well as increasingly digitalise transport and energy networks.
The second CEF Digital call for the 5G for Smart Communities action is open with a budget of €50 million. Funding under this action will support projects that exploit new capabilities provided by 5G networks, with the aim of delivering new, efficient and more resilient public services.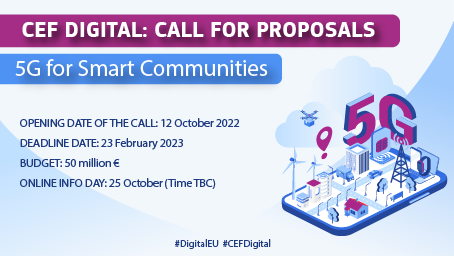 The deadline to apply is 23 February 2023. Interested applicants can refer to the recording of the online Info day for more information.
Details
Publication date

20 December 2022

Authors